About Me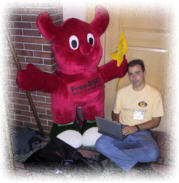 Hi, my name is Gianmarco and you are watching my web page on Gufi website.
I am using FreeBSD since far 1995, when I found in a small shop a FreeBSD 2.0 CDROM sitting in a corner forgotten by everyones. How it was arrived in that shop I still can not explain it, but I bought it, perhaps attracted by the diabolical cover :-)
When I arrived home I tried to install on my pc and I was so amazed that everything works like a charm at the first try. It began in this way my long journey with Chuck that still happily continues today...
If you want contact me you can write at gmarco at gufi dot org
My twitter account is gmgiovannelli and you cand find me on facebook or google+ as Gianmarco Giovannelli (ggiovannelli).

Pgp public key:


-----BEGIN PGP PUBLIC KEY BLOCK-----
Version: GnuPG v1.2.0 (FreeBSD)

mQGiBD2lKYQRBAChhDCNGfNMJvhC9PkFV+qwq/8ksFIT2yuW9e5JQk82vw5Hakwy
mWOAcabJTtgGwtcR5599QYlppnEBGjtRgGhNa4M6apB698bdrC+1xHqmbdA85bTR
w+kkxOn4OX6qD9PASC43Ja/gSrh98B+SKoUoFICDKPUHwcvvq2G28XNk+wCglI4S
jqriBXehb0F1CWZyru6rkvsD/ifhnZHMNc62jkFV0SnPT0tD2HjDoUYQ0XgvIQWD
Gq78Vjk/0qx3yfPg3Vc2AsD5B+1f9MXhqHOBf1mW9DyyLzwy/WM5/sGMabLktRF0
r5WNhzczO7L/SKeoRMyfW1VjtJ+dE3gx1jkLpEEZMw+TVPvOcTm6eOgSjjeymnio
kGjCA/wP1eS3RNbmtxnuJ+oDC9k4MZQx1TPb5rinr+H73uDCK09Ns+taVNQvNGs5
NFO/6z3pw5sN0Hp6TlquhLbQOf3Bsby0jiPJt6emxv9ofte+dY2pccprgXYGGY96
+i946EI6YjtXQraIkcTkJ5pCK3y+Mkq+FeegKBiCpVCfAOek7bQ2R2lhbm1hcmNv
IEdpb3Zhbm5lbGxpIChvbmxpbmUpIDxnbWFyY29AZ2lvdmFubmVsbGkuaXQ+iFkE
ExECABkFAj2lKYQECwcDAgMVAgMDFgIBAh4BAheAAAoJEG0hDjaqcofL47wAoJPC
yu8n9cWcwr8LOmicOY8hGMLDAJ9wigJTB5UMIuDR57lS0WVNDTcc9LkBDQQ9pSmF
EAQA/3N7BR3uiJHNmBrlf4UDW4Oj2lRVjvcm7705mkmwuM4yl9w63rO8GEgHY8KZ
Or2GDIjB/HTfdrAgbkseOaMo3qTu03/OkRXz8s/UfQ9dAubEvOP64wi29hDGLdlU
st86ZOzEW90NZh8Fp04ZuVGUAUR/SGbeoqnu1rPSufklPRMAAwYEAPgbrzqkhU96
dyOZuoLCfd+74hZTctS1H5ZIzzQJ41YtyDfFSIDblUXlLdvIe0PI9LhsUWzyelUt
fzqmvNa1CCPnZUk5WHmAW3vQbhIF0vE2uy0tIa1SUsN0x0r+UnGzz6albedhUjmY
hc9F1rSMVdrA9I5avZAfS5SzT0XTX+GwiEYEGBECAAYFAj2lKYUACgkQbSEONqpy
h8tvYACfQgvjwBLEdB8zY7Zkn6BMYzWzClEAniGjl0GGQ8v2T8aoNqmMN42ra62y
=mgNH
-----END PGP PUBLIC KEY BLOCK-----